Public Event September, 30, 2008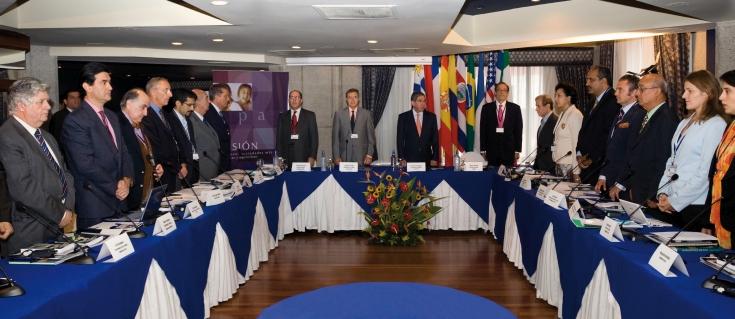 San José de Costa Rica
The Toledo International Centre for Peace (CITpax) and the Arias Foundation organised this seminar with the aim of creating a venue for high level dialogue to promote the principles of the Alliance of Civilisations backed by the United Nations and the possibility of applying it within the Latin American context.   
Three main topics were tackled during this seminar: the principles of the Alliance of Civilisations, the issue of intercultural-rooted conflicts as a response to the current fissures experienced by the continent, and enabling the creation of new bridges between two realities that have had distant relations for a long time; the Arab world and Latin America.
Doctor Oscar Arias, Nobel Peace Prize winner and President of the host country offered his backing and support to this initiative at the seminar's opening ceremony, confirming Costa Rica's deserved place as a leader in outrach in a peace project at a global scale. 
Likewise, the following people took part in the seminar: Secretary of State for Costa Rica, Bruno Stagno, Superior UN Representative for the Alliance of Civilisations, Jorge Sampaio (via video-conference), President of the Superior Level Alliance of Civilisations Group, Federico Mayor Zaragoza, as well as other individuals.
See Also
Policy Fora July, 16, 2008
Mérida - Madrid, 13 – 16 July 2008 The "Interculturality and Conflict in Latin America" project has enabled relevant experiences in the Andean region to be identified, where the concept of intercultural relations, whilst being a source of conflict, also offers broad possibilities for dialogue between sectors that represent different interests co-existing in the same territory. The topics outlined for the project are experiences of managing conflicts in the following areas: local and indigineous governments, local communities and multinational companies, international relations and indigineous...
Read more