Public Event January, 25, 2022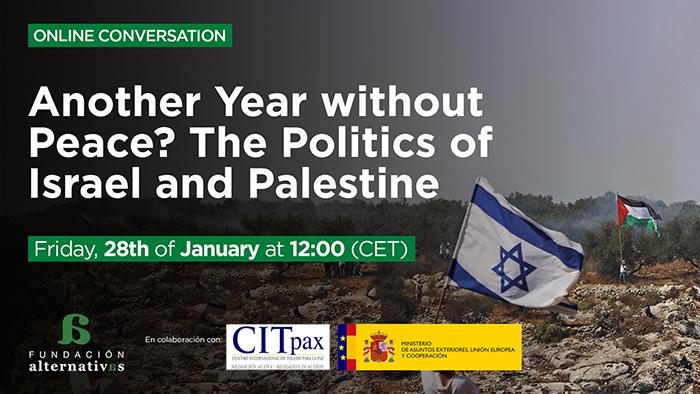 Friday, 28 January 2022 - 12:00 CET
This debate organized by Fundación Alternativas and CITpax will focus on the current political dynamics both in the post-Netanyahu Israel, on the one side, and in the occupied Palestinian territories (Gaza Strip and West Bank) and Jerusalem, on the other. 
We will make a re-assessment of the political barriers and opportunities regarding the reopening of negotiations, including: Israel: military actions, government's settlements policy, human rights violations and apartheid; Palestine: Hamas violence from Gaza, Palestinian Authority's lack of transparency and undemocratic practices; or the persistence of illiberal trends in both sides. 
We will also discuss the new priorities, obstacles and opportunities for Spain's politics on Israel/Palestine, both bilaterally and in the EU framework. One key question is whether Spain could play a more pivotal role at EU level and, if so, how.
12:00 COLLOQUIUM 
Shlomo Ben Ami, Vice President of CITpax and former Minister of Foreign Affairs of Israel
Polly Bronstein, Executive Director and founder of Darkenu
Dalal Iriqat, Vice President of the Arab American University Palestine
Sami Abu Shehadeh, Member of the Knesset for the Joint List
Presentation and moderator:
Vicente Palacio, Foreign Policy Director, Fundación Alternativas
13:00 CONCLUSIONS / CLOSING REMARKS
Itxaso Domínguez de Olazábal, MENA Coordinator at Fundación Alternativas
Emilio Cassinello, Director General of CITpax
ID: 892 3961 3305