Policy Fora December, 4, 2011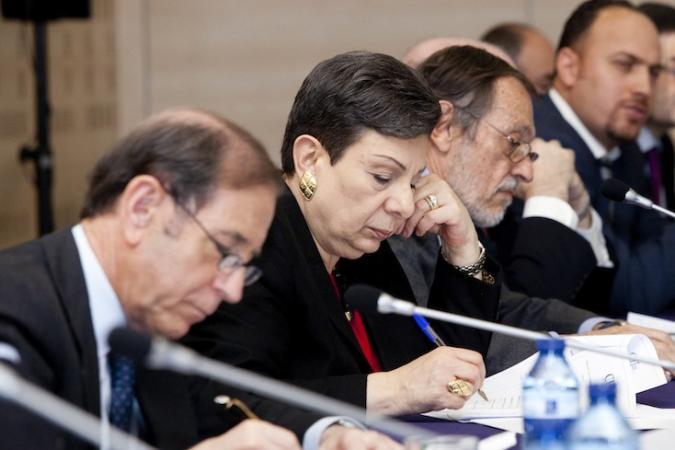 Commemoration of the 20th Anniversary of the 1991 Madrid Peace Conference
Madrid, 2-4 December 2011
In commemoration of the 20th anniversary of the 1991 Madrid Peace Conference, the Toledo International Centre for Peace (CITpax) held the meeting "Madrid + 20 - Lessons Learned" on 2-4 December 2011 at the Palacio de Viana in Madrid. The meeting, which was held under the sponsorship of the European Union and the support of the Spanish Ministry of Foreign Affairs and Cooperation, involved the participation of key experts and former officials from the Middle East, Europe and the USA. Participants included Hanan Ashrawi, Marwan Muasher, Shlomo Ben Ami, Felipe González, Daniel Kurtzer, Mustafa Barghouti, Miguel Ángel Moratinos, Thomas Pickering, as well as a number of young activists and experts from the region who provided a fresh outlook. The purpose of the meeting was to carry out  a serene reflection on the process and attempt to draw useful lessons.
On this same occasion, a roundtable, sponsored by the Spanish Ministry of Defense, was held at the Gutiérrez Mellado Institute on 2 December 2011. The meeting, titled "The Madrid Peace Conference: The Middle East Twenty Years Later (1991-2011)", aimed at reflecting on the peace process and possible ways ahead. The speakers at the roundtable were Hesham Youssef, former Chief of Cabinet of the former Secretary General of the Arab League, and Shlomo Ben Ami, former Israeli Minister of Foreign Affairs. The meeting also involved representatives of Spain's major think tanks as well as Spanish officials. 
See also
Public Event January, 12, 2007
Towards Peace in the Middle East: Addressing Concerns and Expectations On the occasion of the commemoration of the 15th anniversary of the Madrid Peace Conference of 1991, and with the goal of revitalizing a regional approach to peace in the Middle East, the Toledo International Centre for Peace, Search for Common Ground and Fundación Tres Culturas del Mediterráneo organized the "Madrid Fifteen Years Later" conference in January 2007. The discussions demonstrated that the gaps between the parties were in fact bridgeable The discussions demonstrated that the gaps between the parties were in...
Read more