Policy Fora November, 3, 2014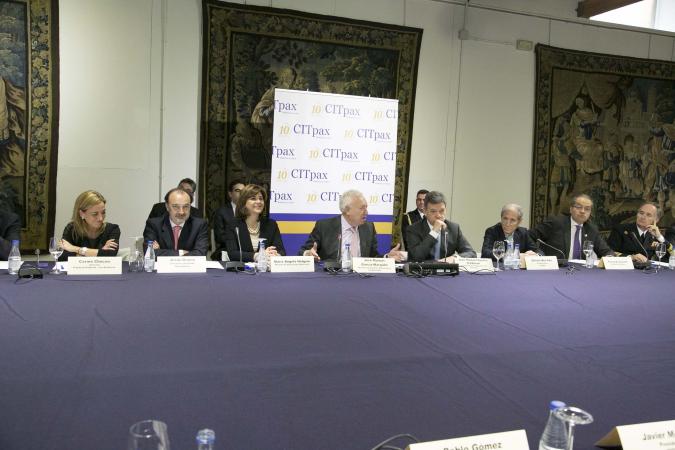 The President of Colombia, Juan Manuel Santos, made his first official visit to Spain since the begging of his second mandate on November 3, 2014. The president's official agenda consisted of an interview at the Palacio de la Moncloa with Mariano Rajoy, an official lunch with the King of Spain and his investment as Doctor Honoris Causa by the Universidad Camilo José Cela. In addition, Santos met with the members of the Board of Trustees and the Corporate Advisory Council of the Toledo International Centre for Peace (CITpax) at its Headquarters in the Real Fábrica de Tapices, on the occasion of the 10th anniversary of the Centre.
The Minister of Foreign Affairs and Cooperation, José Manuel García Margallo, the Secretary of State for Foreign Affairs, Gonzalo de Benito and the Secretary of State for International Cooperation and for Ibero-America, Jesús Gracia were amongst the official Spanish representatives who attended the closed doors meeting along with a delegation of Colombian Officials which included amongst others, the Minister of Foreign Relations, Maria Ángela Holguín, the Minister Counselor of Government and Private Sector, María Lorena Gutiérrez, and the Minister Counselor for Communications, María del Pilar Calderón Vargas.