Public Event March, 13, 2013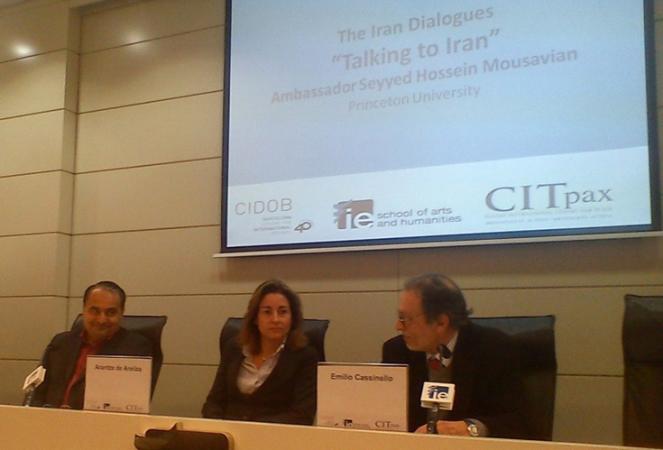 The challenge posed by the nuclear issue and international sanctions on Iran requires a complex understanding of regional issues and their interconnections, as well as Iran's interests. 
To address these issues, members of the CITpax´s Middle East and the Mediterranean Programme in 2012 established a working group on the Iranian issue that has resulted in a series of monthly meetings, under the label of Iran Dialogues. The working group consists of a variety of Spanish and international experts, including two specialists from CIDOB (Emma Hooper and the former Italian Ambassador to Iran Roberto Toscano), Luciano Zaccara (Professor at the Autonomous University of Madrid), Leopoldo Stampa (former Spanish Ambassador to Iran), Eudaldo Mirapeix (former Spanish Ambassador to Israel), Carlos Alonso Zaldivar (former Spanish Ambassador to Brazil) and Cristina Manzano (Director of the Spanish edition of Foreign Policy).
Within this framework, on 13 March 2013 CITpax, in collaboration with IE and CIDOB, organised a closed-door panel with Ambassador Seyyid Hossein Mousavian (former member of the Iranian negotiating team) on the future of negotiations with Iran. The meeting was attended by members of the working group, of various think tanks and representatives of the Ministries of Foreign Affairs and Defense of Spain.