Public Event October, 26, 2005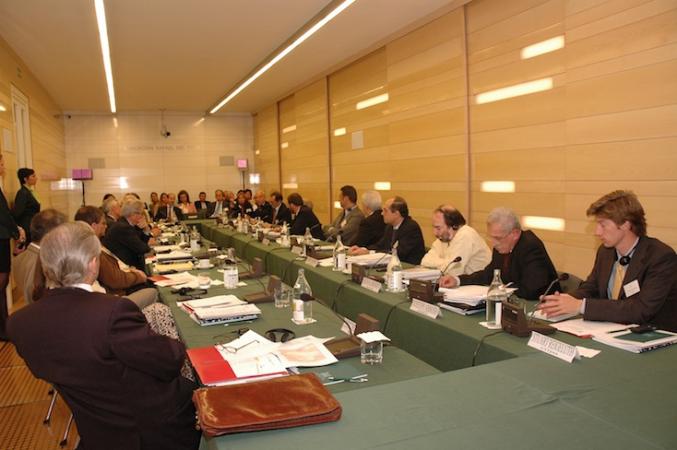 Political reconciliation between parties in dispute remains a primary requirement
At this conference, in collaboration with the Fundación Rafael del Pino, the new horizons and continuing challenges of Iraq were discussed as well as the legitimacy and viability of the Iraqi Constitution, regional perspectives, and the role of international players in Iraq. In particular, the role of the European Union, the World Bank and Spain in the reconstruction process of Iraq was discussed. The main conclusions reached were that political reconciliation between parties in dispute remains a primary requirement for achieving economic stability; that broader popular representation in the political process is essential for the revival of economic development; and that the rule of law continues to be the cornerstone for the reconstruction of Iraq.
See Also
Policy Fora March, 6, 2009
Madrid - Toledo (Centre for Political and Constitutional Studies) CITpax, in coordination with Al-Amal and the Centre for Political and Constitutional Studies, organised the third training Seminar on Human Rights issues and Conflict Resolution techniques. A selected number of participants, representing different regions and ethnic and religious groups will participate. The objective was to train future trainers that will multiply the tools and skills considered during the workshop. In previous years, CITpax, in collaboration with the Iraqi association Al-Amal, carried out two training...
Read more
Sulaymaniyya, Iraqi Kurdistan, July 2006 (first workshop) This training workshop aimed to empower a group of Iraqi women representing different regions, ethnic groups and professions to become trainers in conflict resolution and group facilitation in their country. Madrid- Toledo, 7 – 11 May 2007 (second workshop) This seminar, organised by CITpax, the Al-Amal Iraqi Association and the Rafael del Pino Foundation, aimed to provide a group of Iraqi women with conflict resolution techniques to reinforce the role of Iraqi women as an essential part of civil society and also to encourage gender...
Read more