Public Event October, 23, 2008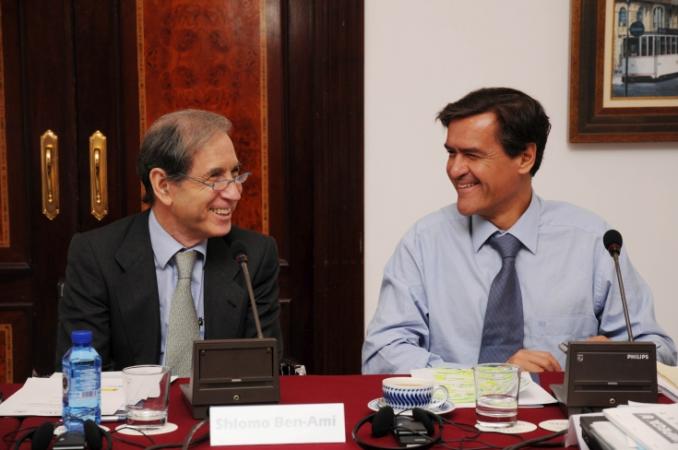 Madrid (Casa de Galicia)
CITpax, Martti Ahtisaari's Crisis Management Initiative, and the Madariaga Foundation, presided by Javier Solana, organised a Seminar in Madrid to contribute to designing a wider culture of national defence in Spain. This must provide an effective response to the new international challenges in their different dimensions -civilian and military- and promote effective multilateralism as depicted in the European Security Strategy.
The focus of the meeting was to explore solutions to enhance cooperation among civilian, military and international actors within the different dimensions of Security and Defence at both the national and the international levels, to finding ways to achieve a safer, more stable and more peaceful world. Both Spain and the International Community should aspire to achieving this goal.
The current President of the Public Administration Commission and Member of the External Relations Commission in the Spanish Congress, Juan Fernando López Aguilar, the Director of the Spanish Institute of Strategic Studies, Admiral Jaime Rodríguez-Toubes Nuñez, and the Vice-President of CITpax, Shlomo Ben-Ami, inaugurated the Seminar.
Renowned experts from the Spanish Ministry of Defence, from Presidency of Government, from International Organisations such as NATO and the EU, from reference think-tanks in the area of Security and Civil Crisis Management (IECHA, EPLO, ECFR), as well as academics, all participated in the Seminar.
See Also
Public Event November, 17, 2009
Madrid, Instituto Universitario "General Gutiérrez Mellado" CITpax have presented, on November 17th, the report "New Security Paradigms" at the Instituto Universitario "General Gutiérrez Mellado". The "Research Group on Wider Security" – jointly coordinated by CITpax and the Spanish Institute of Strategic Studies – is responsible for this work. The report describes the evolution of the security concept to present and compares the national security strategies of Canada, France, United Kingdom and The Netherlands. It also analyses the different security models developed in the framework of the...
Read more
Public Event July, 3, 2008
CITpax, the Elcano Royal Institute and the Spanish Institute for Strategic Studies for the Ministry of Defence organised a seminar in Madrid to tackle Spanish foreign action in the field of Security Sector Reform (SSR) and thus to help develop a Spanish SSR strategy or concept in line with Spain's skills and international scope. The European Commission's permanent representative´s Office in Madrid hosted this event. Defence Minister, Carme Chacón, opened the seminar. Also attending the opening ceremony were Director of the European Commission's Representation in Spain, José Luis González...
Read more